Welcome To The Oyster Bar & Restaurant Isle Of Seil
Welcome To The Oyster Bar & Restaurant Isle Of Seil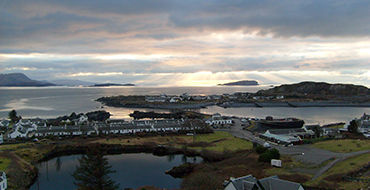 The Oyster Bar & Restaurant is a family run business located in the beautiful and historic village of Ellenabeich, Easdale, approximately 16 miles south of Oban on the West Coast of Argyll.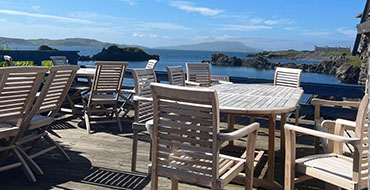 We are situated overlooking the village square of this historic village to the front and have a rear seating area which looks across the Atlantic taking in views of the islands of Scarba and Jura to name but two of the many islands seen from this superb vantage point.
Reviews
Great food, very welcoming. we'll be back very soon!
peter watson
June 23, 2022.
Called in for a cuppa and a sarni.. 4 of us. One has soup, one had baked spud, one had mussells i had a sandwich cullen combo. This wasca ham and cheese sandwich with a bowk of cullen skink. Smoked haddock stew. God that was tasty. Lovely people running the place. Good prices. Comfortable seating. A must if your in the area. I will hasten to add that although the mussells was starter size it was a fair pot full and locally fished
graham wild
June 23, 2022.
Great little pub with lovely balcony over looking Bay
Fiona Lamb
June 22, 2022.
Very welcoming to both humans and hounds. Had an early light lunch and were delighted to find we were encouraged to bring my two dogs in(who mercifully behaved themselves). Staff very friendly and helpful. Can't fault the service or food and dogs were made a fuss off!!! Will definitely be back in the future.
Mary dodds
June 11, 2022.
Lovely food and dog friendly
Christopher Donohoe
June 11, 2022.
Fantastic place. Brilliant food. and good service.
Andrea Schönefeld
June 10, 2022.
Lecker Muscheln